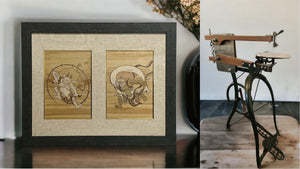 Japanese Marquetry Art
木象嵌 Atelier k
Japanese Marquetry Art
木象嵌 Atelier k
Marquetry is a traditional technique in which different types of wood are cut according to a design and applied to a single piece of wood to create pictures and patterns.
It is said to have originated in Syria in the Middle East before the Common Era, and is still being practiced around the world today.
Marquetry was introduced to Japan during the Asuka period (592~710) through the Silk Road.
There are many variations of marquetry techniques, but our atelier practices the Hakone Marquetry technique, which is also a traditional craft of Kanagawa Prefecture.
Marquetry was made in Hakone beginning in 1889, and is mass produced by using a fret-sawing machine to make base boards with inlays of 1 cm~1.5 cm and thinly slicing those boards with a plane. The contours of facial features, as well as fine lines such as hair, are also created using wood.
These are unique techniques that cannot be seen in marquetry made in other countries.
Our atelier is located in Yugawaracho in Kanagawa Prefecture, a town rich in nature and surrounded by mountains and the ocean. The atelier was established in 2019, and in 2021 I became the fifth person in Japan to obtain the qualification of "Ministry of Health, Labor, and Welfare Certified Marquetarian".
We invite you to take a look at the delicate marquetry art that has independently evolved in Hakone, Japan, which possess a beauty weaved from natural wood colors and wood grains without additional coloring.