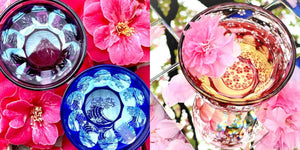 GLASS-LAB
Heart-stirring gifts: Shina Kiriko Cut Glass
Shina Kiriko is the result of the challenging work of craftsmen who have been continuing their craft for three generations in a downtown area. Since 1950, they have been engaged in glass processing in Kiyosumi Shirakawa for three generations. They specialize in flat cut glass and world-class sandblasting and have developed a unique Edo Kiriko called "Suna Kiriko" that uses both techniques to create their works of art. Their mission at GLASS-LAB is to create glass products with sentimental value and to provide a "co-creation" service with the gift giver, resulting in a gift that "stirs the recipient's heart."
About Edo Kiriko
Edo Kiriko is a general term for glass products that have been cut and processed in Edo/Tokyo since the late Edo period to the present day. In 1985, it was designated as a Tokyo Traditional Craft Product, and in 2002, it was recognized as a Traditional Craft Product by the Minister of Economy, Trade, and Industry.
The beginning of Edo Kiriko
It is said that Edo Kiriko began when Kaga-ya Kyuubei, who ran a bead store in Edo Oodenmacho in the late Edo period, applied cutting techniques to foreign glassware brought in by the Nanban trade. The catalog issued by Kaga-ya Kyuubei introduces many glass products that were available at the time, including tableware, scientific and daily necessities, and goldfish bowls. This shows that a lot of glass products were being sold in the Edo period. The history and technology developed at that time have been passed down to the present day as "Edo Kiriko."

The elegance and technique of Edo Kiriko
The Sumida district in Tokyo has always been a gathering place for Edo Kiriko craftsmen, and the unique sound of glass being shaved has always been a part of the Edo atmosphere in the downtown area. Japanese people have a keen sense of light and shadow, especially natural light, and they have a sharp sense for tempering the sunlight with eaves or shoji screens and bringing it into the room. Edo Kiriko is filled with the techniques that can only be achieved by knowing how to manipulate light, such as refracting light in deep grooves, collecting thin lines to create reflection effects, and sometimes even softening the glass to create a cloudy appearance. (Source: Sumida Kirikokan)