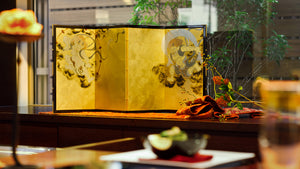 HAKUICHI
Preserving Tradition and Involving People's Lives
HAKUICHI
Founded in 1975
Over 99% of gold leaf in Japan is made in Kanazawa.
It is said that the first gold leaf in Kanazawa was made in 1593 by Toshiie Maeda, the founder of the Kaga domain. Another reason why gold leaf boasts such a large market share in Kanazawa is that even though the shogunate prohibited the use of gold leaf, the craftsmen of the Kaga domain continued to apply gold leaf in secret. It is said that this is because the technology that seeks quality has been studied and excellent technology has been cultivated. Kanazawa accounts for more than 98% of the domestic production of gold leaf, and is also called the city of gold leaf. This area has a history of 400 years of foil beating, and we believe that preserving this tradition is a major mission. Tradition, however, is not just something to keep. In modern life, we believe that it is meaningful only when people recognize its value and need it. Preserving tradition and making it into people's lives. That is the thought behind our craftsmanship. Focusing on Kanazawa gold leaf, we have taken on many challenges with the desire to make Japanese handicrafts take root in people's lives.
Outstanding technology will lead to future as a living culture only when people need it and its value is recognized in their daily lives. We hope that this tradition will continue to be widely loved and sought after by people. We are disseminating Japanese manufacturing to the future.