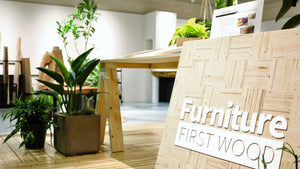 Furniture
FIRST WOOD
Expressive fragments of wood decorate one's interior
FIRST WOOD
To protect the mountains and protect the region. That is our mission.
At First Wood, we work on the appropriate development and conservation of forests and contribute to the prevention of global warming as well as the formation of a sustainable society for the effective use of both local and international forests as well as the growth of the forest industry. Also, by providing a stable supply of affordable and high-quality wood using domestic timber, we reduce residential costs and create employment opportunities. We are placing our focus on activities to contribute to the growth of the local community.
About self-harvesting forestry
It is a small-scale forest industry that reduces environmental impact as well as gives additional value to resources such as thinned wood and secures profit while maintaining forests. It also has the effect of eliminating a lack of inheritors in the forest industry as well as prevents and reduces mountain forest disasters. In Japan, with approximately 67% of its land taken up by forests, it is garnering attention as a sustainable business model.